Gandhi the Man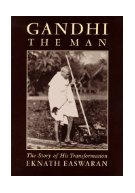 This Book @ Amazon.com
(From $7.50)
This Book @ Amazon.ca
(From $CAN 7.55)
This Book @ Amazon.co.uk
(From £2.35)
Related Products (usually books and/or movies)
No Similar Book Found

Other Books by Eknath Easwaran listed on BestSpirituality.com
Quotes & Excerpts
No Quote Found
BestSpirituality.com Visitors' Reviews / Comments
Submitted by Unknown
I've always admired Gandhi, and I found this book to be exceptionally inspirational. Very easy to read, and the author does a fantastic job of helping the reader understand how to emulate some of Gandhi's strengths and wisdom in their own life, if they so desire.

Submitted by: Franzi from Canada and Germany
This book is the best I've ever read about Gandhi. Eknath Easwaran understands to show Gandhis beliefs and his life in an easy way. I am deeply impressed by this man. His writing is wonderful. No boring school book!