Still Here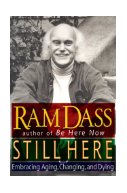 This Book @ Amazon.com
(From $14.78)
This Book @ Amazon.ca
(From $CAN 43.31)
This Book @ Amazon.co.uk
(From £44.83)
Related Products (usually books and/or movies)
= Amazon.com   |   
= Amazon.co.uk   |  
= Amazon.ca.
Other Books by Ram Dass listed on BestSpirituality.com
Quotes & Excerpts
Warning
: file_get_contents(https://graph.facebook.com//quote/225.htm): failed to open stream: HTTP request failed! HTTP/1.1 400 Bad Request in
/home/common_NEW/quotes/showquotes.inc
on line
19
There's much more in any given moment than we usually perceive, and that we ourselves are much more than we usually perceive. When you know that, part of you can stand outside the drama of your life.
By Ram Dass
| comments
Rate this quote:
Rating: 8.2 | Votes: 10
BestSpirituality.com Visitors' Reviews / Comments
No review / comment found