What the Bleep Do We Know?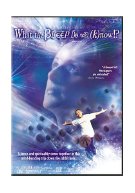 This Movie @ Amazon.com
(From $15.00)
This Movie @ Amazon.ca
(From $CAN 24.00)
This Movie @ Amazon.co.uk
(From £27.16)
Related Products (usually movies and/or books)
No Similar movie Found

BestSpirituality.com Visitors' Reviews / Comments
Submitted by: Jo :-) from NY
I enjoyed the questions and facts brought up in this movie. It explains quantum physics in a way that anyone can understand. The movie explains scientific facts and dabbles in biology and human drama.

This drama/documentary was very informative. I recommend purchasing the movie for repeated veiwing.

I also recommend getting the book. I read the book after the movie and it made the books concepts more easy to grasp.