Tales of Power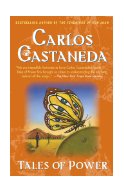 This Book @ Amazon.com
(From $9.86)
This Book @ Amazon.ca
(From $CAN 15.21)
This Book @ Amazon.co.uk
(From £9.02)
Related Products (usually books and/or movies)
= Amazon.com   |   
= Amazon.co.uk   |  
= Amazon.ca.
Other Books by Carlos Castaneda listed on BestSpirituality.com
Quotes & Excerpts
Warning
: file_get_contents(https://graph.facebook.com//quote/31.htm): failed to open stream: HTTP request failed! HTTP/1.1 400 Bad Request in
/home/common_NEW/quotes/showquotes.inc
on line
19
Everything we do, everything we are, rests on our personal power. If we have enough of it, one word is enough to change the course of our lives. If we don't, the most magnificent piece of wisdom can be revealed to us and that revelation won't make a damn bit of difference. Do you know that at this very moment you are surrounded by eternity? And do you know you can use that eternity, if you so desire? Do you know that you can extend yourself forever in any direction and use it to take the totality of yourself forever in any direction? Do you know that one moment can be eternity? If you had enough personal power, my words alone would serve as a means to round up the totality of yourself and get to the crucial part of it out of the boundaries in which it is contained.
By Carlos Castaneda
| comments
Rate this quote:
Rating: 8.88 | Votes: 16
BestSpirituality.com Visitors' Reviews / Comments
No review / comment found