Authobiography of a Yogi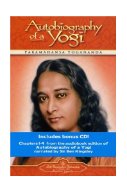 This Book @ Amazon.com
(From $6.75)
This Book @ Amazon.ca
(From $CAN 16.69)
This Book @ Amazon.co.uk
(From £7.62)
Related Products (usually books and/or movies)
= Amazon.com   |   
= Amazon.co.uk   |  
= Amazon.ca.
Other Books by Paramahansa Yogananda listed on BestSpirituality.com
Quotes & Excerpts
No Quote Found
BestSpirituality.com Visitors' Reviews / Comments
Submitted by Unknown
Most Powerful Book I have ever read!

Submitted by Unknown
The Greatest book - It changed me for the better - Finding this book was the turning point of my life.

Submitted by Unknown
A very clear view of an often mysterious world, the world of the Indian mystic. Great anecdotes from Yogananda's contact with spiritual masters.